Commissions & Projects
Transform your brand's image with the mesmerizing neon light artworks of Hong Kong artist Sharmaine Kwan...
Brands Worked With & Featured In
Benefits:
Increase Brand Reach & Awareness

New Creative & Innovative Ways to Engage with Audience

Long Lasting Impression
Types of Commissions
Art Commission

- Neon Style Artworks

- Mixed Media Art & Painting

- Digital Art & NFTs

Custom Neon Sign

- Traditional Neon Glass Sign

- LED Neon Sign

- Infinity Mirror Neon Sign

- 3D Neon Sculpture

Art Installation

- Neon Sign Installation

- Immersive Experiences

- Digital Art Installation

Others

- Art Direction

- Events

- Commercial Space Interior Decor

- Product Artwork Design
YouTube Top 1500 Creators NFT Art Gift Commission
Commissioned by YouTube, the personalised NFT gifts reached top global YouTubers who shared it with millions of their fans such as Mr & Mrs Gao (老高與小茉), Footdocdana (Dr. Dana Brems), Diva Depressao, Flakes Power (Joao Sampaio), Korea Grandma, Acooknamedmatt (Matt Broussard), Dinatokio, Edho Zell, Simsaimdang, Sara Wijayanto, Manonbrilcuah (Manon Bril), Lipaogamer (Felipe Viktor), Thomas Söpper, Molly Burke etc.
Neon Sign Installation Commissioned by Victoria Harbour (Hong Kong Development Bureau)
The installation featuring two large scale LED neon light walls along the harbour front attracted many visitors with a high engagement and interaction with the public and was covered in multiple news and media outlets.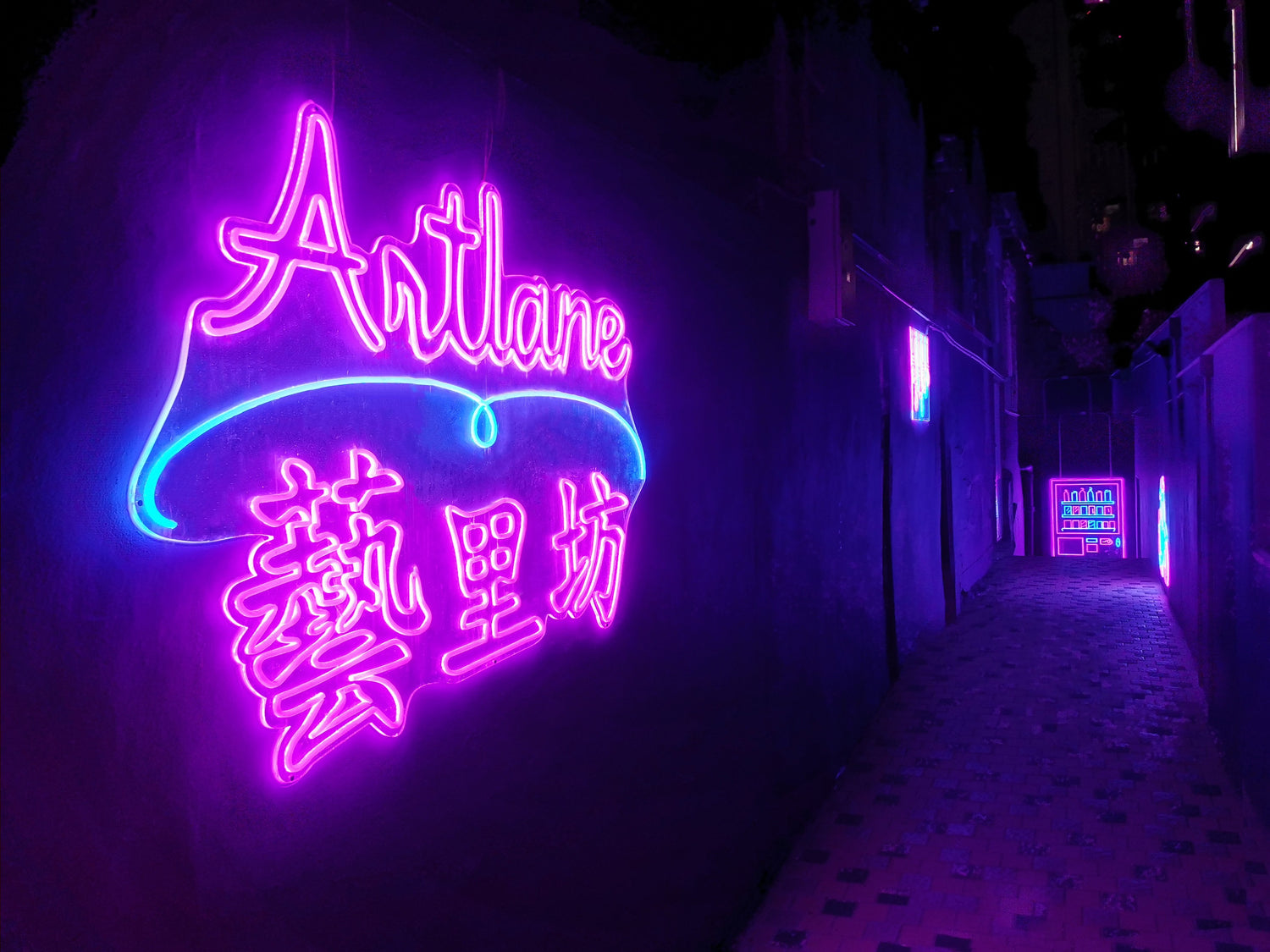 Henderson Land Artlane Neon Light Installations
'Hi-Light Alley' - Sai Ying Pun
Featuring several iconic neon light pieces, the installation attracts visitors and tourists as well as adding a vibrant atmosphere for the residents.
Digital Art Show Commissioned by HKUMed (The University of Hong Kong Faculty of Medicine)
135th Anniversary Show 'Medicine and Healthcare Through the Lens of Digital Art'
Illuminating the novel achievements of clinical research, the show was visited by notable doctors and professionals whilst garnering wide interest from the public.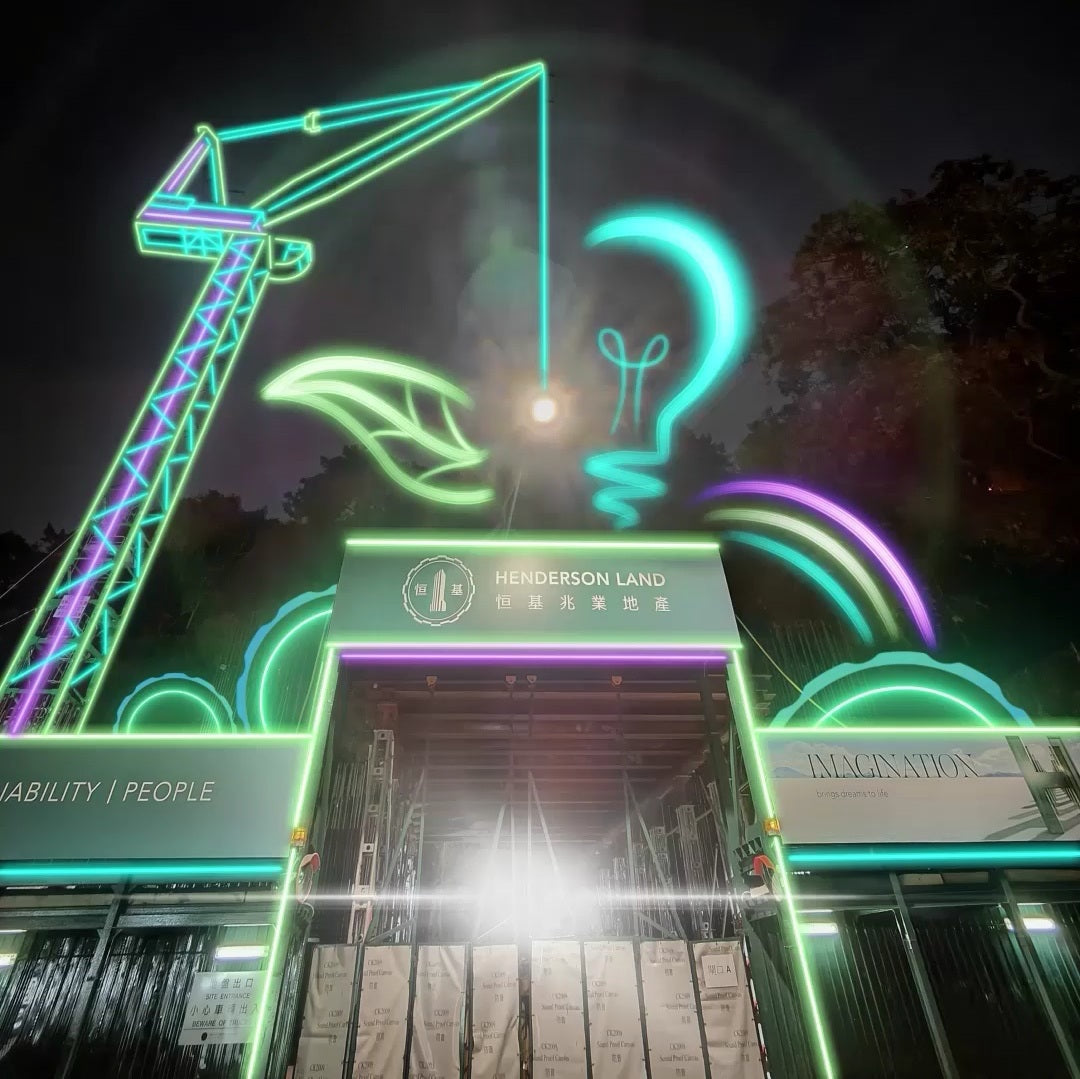 Henderson Land Digital Art Commission
By transforming the construction site into a dazzling animated piece of art, the work captures the elements of innovation, people and sustainability whilst increasing brand reach and awareness on social media platforms.
Interested to learn more?
Leave a message and book a consultation with Sharmaine!
Other Collaborations & Projects
Immersive Digital Art Installation at TODA, Dubai

360 degrees immersive large scale digital neon art installation at The Theatre of Digital Art and Art In Space in Dubai for Project22

Digital Art Fair Asia

Neon sign installation and NFTs exhibited at DAFA

Cathay Pacific VIP Event at JW Marriott Hotel, Hong Kong

Marco Polo Club Chairman's Drinks 2019 & 2018 - Live Event Illustration with over 800 VIP guests

Neon Sign Installation for Artistsverse Show at Tower 535

'Meta Nostalgia NFT Art Theatre Experience' featuring numerous themed neon light installations that fill the space in a neon glow

Neon Sign for Media Studio Headquarters

Combining motifs of reaching the moon and pressure makes diamonds, the piece encourages and lifts up team spirit in the office.

The ARThletes Project

Organised by Culture Action, The Sports Federation and Olympic Committee of Hong Kong, China, and Art Next

Metal Engraving Design for Cathay Pacific

Travel themed gifts for Cathay Pacific VIP Marco Polo Club Members

Piano Art Commission for HKACA and Kwai Chung Hospital

Neon and Hong Kong city themed hand-painted piano art commission public art for hospital
Testimonials
"The design is absolutely incredible, and the features accurately reflect our company's ideology. When walking past this logo everyday our staff and colleagues feel inspired. Thank you Sharmaine. Your art invokes a strong and passive energy." – Grant Y. CEO & Co-founder of Media Studio
"It has been a pleasure working with Sharmaine. We love our commissioned piece and look forward to commissioning the next one. It is stunning and bright, creating energy and conversations. The artwork is truly mesmerizing." - Jason P.
"As someone who has always loved neon, Sharmaine's art is different and unique with her own style. It is beautiful and reminds me of important values." - Liz C.
What's it like to work together:
Unique High Quality Mesmerizing Art

Professionally and creatively tailor-made art to suit your needs in high quality standard that will leave audience amazed.

Easy Communication & Quick Turnaround

Communicate your needs easily and expect a quick response and production time that delivers to the highest standard without any sacrifice on quality.

Professional Consultation & Advice

From small design details to large installations, Sharmaine will provide professional art direction and advice with a range of options available.
Let's Create Something Magical Together...
Don't miss out on the opportunity to bring a dazzle of creativity and innovation to your brand. Contact Sharmaine today to learn more about how her unique and expressive style can help create a lasting impression on your audience.