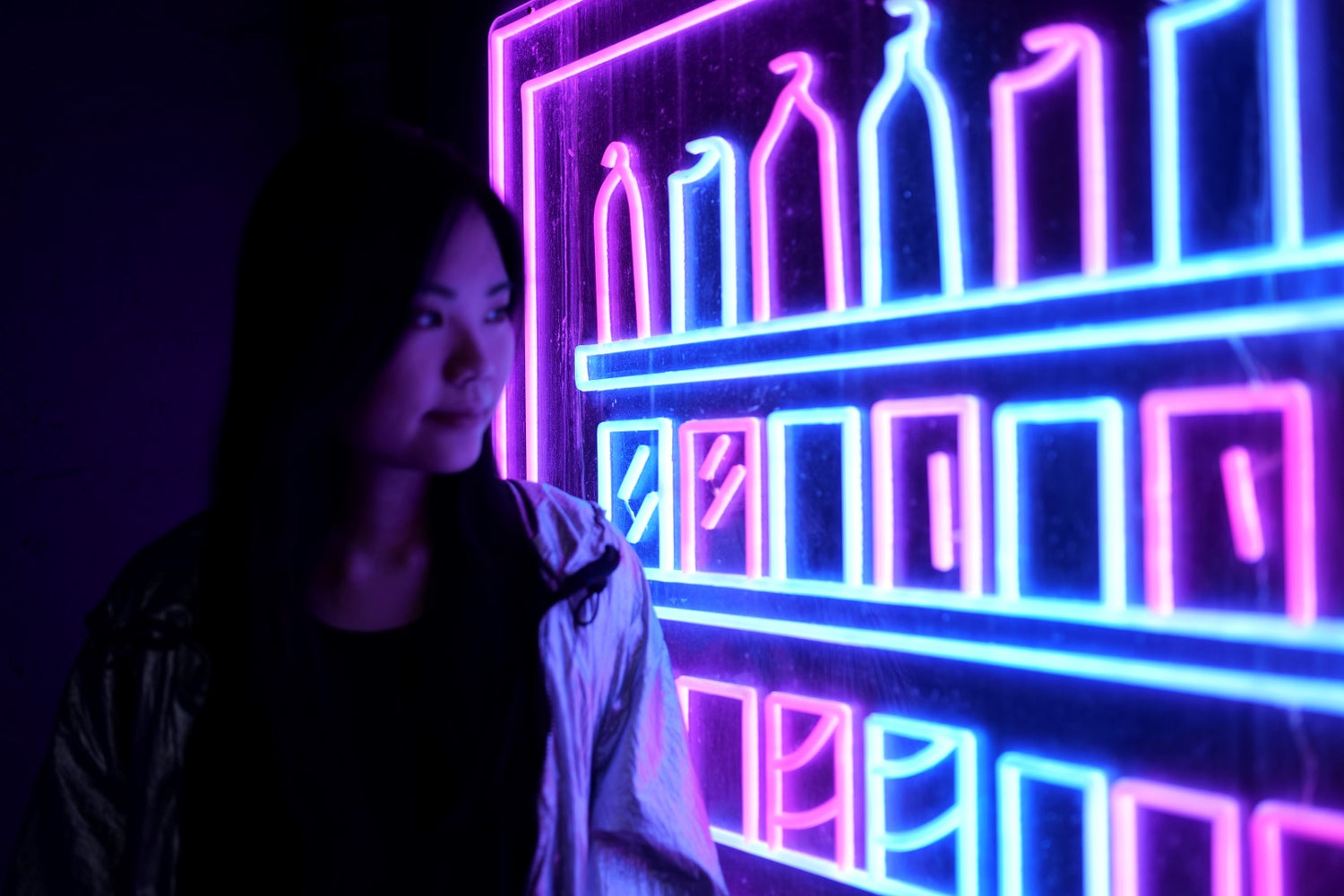 Sharmaine Kwan is a multi-disciplinary artist from Hong Kong who has a deep love and appreciation for the city's history of neon signs. Hong Kong was famous for its stunning neon signs that adorned the streets, creating a vibrant and dynamic atmosphere. At its peak in the 1980s, there were over 100,000 neon signs in Hong Kong, making it one of the largest neon cities in the world.

However, as the city continued to modernise and regulations changed, many of these signs began to disappear, leaving only memories behind. Determined to preserve the essence of neon, Sharmaine has dedicated herself to creating a contemporary approach to neon art through various types of media, from traditional glass and LED neon lights to digital art, painting, sculpture, new media, and installation art.

Her pieces explore and reflect the urban environment, the city and its culture, and the impact of change. By celebrating the beauty of this iconic art form with a contemporary approach, her works breathe new life into the spirit of neon, creating a modern twist that is inspired by the memories of Hong Kong's golden neon era while embracing the excitement and possibility of the future.

Sharmaine Kwan attained a first class honours degree in Fine Art in the UK. She is also the author of 'Traditional Chinese Painting - Masterpieces of Art' and 'How to Paint - Made Easy'. She often engages in art commissions and collaborations with international brands, organisations and events (YouTube, Victoria Harbour, Henderson Land Development, Cathay Pacific etc.). Her work has been shown worldwide in different locations such as London, Moscow, Portugal, South Korea, Macedonia, Beijing, Poland, and Hong Kong. She has also received awards from international art competitions and has participated in overseas artist programmes and residencies.
關舒文是一位畢業於英國藝術系的香港藝術家。她的作品探索城市不同的面貌並跨越多種傳統和數碼媒介如繪畫、霓虹燈、裝置藝術、新媒體藝術、雕塑、錄像和互動藝術等,探討城市環境、本地文化和未來等議題。她曾獲多個國際比賽的獎項;作品也曾於世界各地展出,包括倫敦、葡萄牙、南韓、雅典、莫斯科等地作展覽。她還與國際品牌、組織和活動(YouTube、維多利亞港、恆基兆業地產、國泰航空等)進行藝術委託和合作。除了藝術創作以外,她也應倫敦的出版社的邀請,成為藝術作家,出版《Traditional Chinese Painting - Masterpieces of Art》和《How to Paint - Made Easy》,藉以推廣藝術文化。
See Sharmaine's Full List of Exhibition History and Awards Here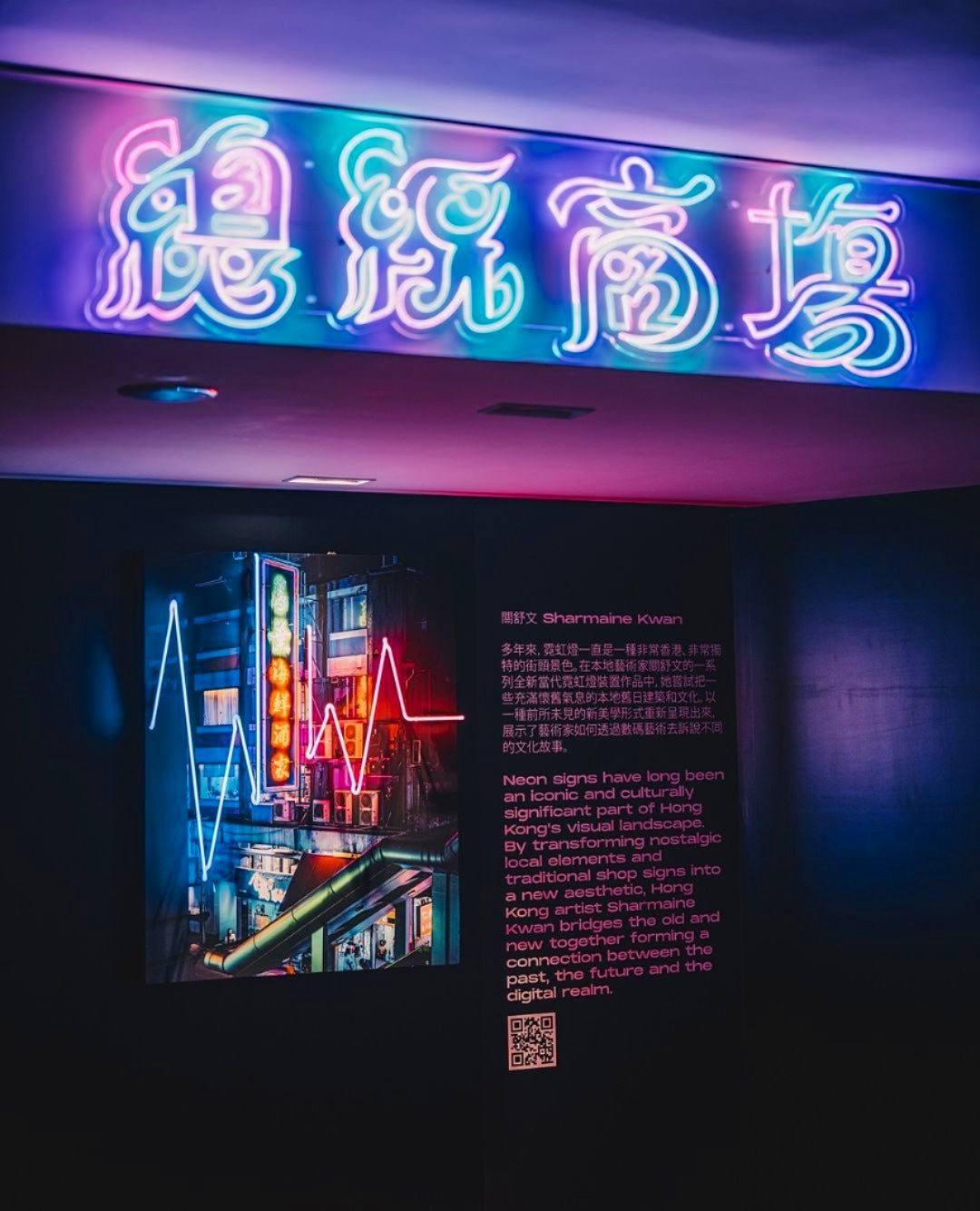 Selected Exhibitions
2023 Secret Room, Theatre of Digital Art (TODA Dubai), Dubai
2022 Digital Art Fair Xperience, 59 Queen's Road, Central, Hong Kong
2022 Awakening Desert - Hong Kong Outstanding Artists Exhibition, AsiaWorld-Expo, Hong Kong
2022 Project22 - Sustainability, Art In Space 360, Dubai
2022 Medicine and Healthcare Through the Lens of Digital Art, HKUMed (The University of Hong Kong Faculty of Medicine), Hong Kong
2022 Continuing the Past and Forging the Future - The Hong Kong Artists Association, Hong Kong Central Library, Hong Kong
2022 Women of the World NFT NYC NowHere Gallery x Infinite Objects Exhibition, New York City
2021 WOW Summit (World of Web3), Atlantis, The Palm, Dubai
2021 Art Next Expo, Lanson Place, Causeway Bay, Hong Kong
2021 Digital Art Fair Asia, 59 Queen's Road, Central, Hong Kong
2019 Garden of the Artisans Festival, Y Loft, Youth Square, Hong Kong
2019 Art Next Expo, PMQ, Hong Kong
2017 51zero Festival, Rochester Cathedral & Guildhall Museum, Rochester, UK
2017 Alienation, Cultural Centre of Moschato, Athens
2014 The Great Known And Unknown, Rybnik Cultural Centre, Poland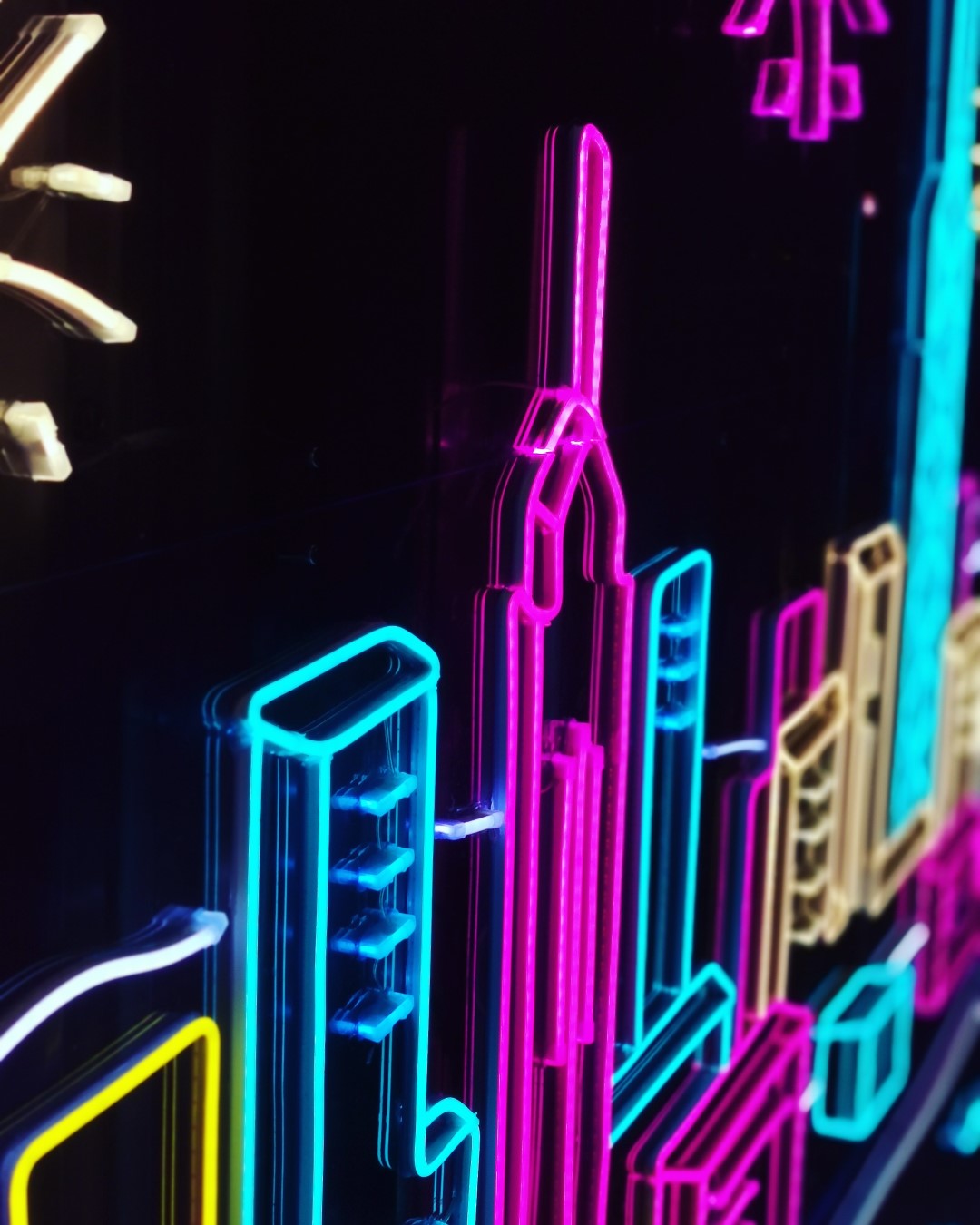 Selected Awards
2022 Excellence Award, MANA Network 7th 'Think Youth' Shanghai Digital Creation, Innovation & Entrepreneurship International Competition - New Media Art Section, Shanghai
2017 Winner, Mural Art Design Competition, Medway Watersports Centre, UK
2015 Winner, SKETCH Hong Kong
2014 Silver Award, ICPC International Competition, Hong Kong
2010 2nd Place, The 13th Annual Peace Pals International Art Exhibition and Awards, New York, USA
2010 The Individual Unique Prize, The World of Art Slovenia at the XV. International Exhibition of Art Works, Celje, Slovenia
Learn more about Sharmaine's Experiences
Check out Sharmaine's Full List of Exhibition History and Awards here